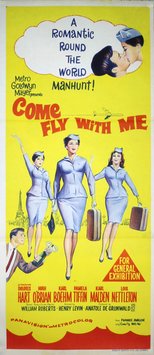 Come fly with me! Although flying today is cheaper, safer, and faster than it has ever been, it's becoming an increasingly unpleasant experience as airlines cram more passengers into planes.

Back in the days when air travel was glamorous, we had more room for our feet, free drinks, and beautiful flight attendants. The 50's and 60's must have been the golden days of air travel.

In 1958, the 23-year-old Swedish SAS flight attendant, Birgitta Lindman, landed the cover of LIFE magazine's special jet issue about airlines. She beat entries from 53 other airlines. In the photo (top) you see Birgitta Lindman posing in front of Jørleif Uthaug's 9 sheet SAS world map poster. Both stunning by the way. :-)  I'll write about the poster in a later blog post.

SAS and other airlines entered the "Jet Age". The business was growing and the planes were becoming better and faster and more prosperity. New routes where introduced. SAS entered its second decade by opening another polar shortcut. This time the destination was to the east and a SAS DC-7C flew from Copenhagen via Anchorage in Alaska to Tokyo, shortening the flying time between Scandinavia and Japan from 50 to 32 hours!

Even movies where made about the airlines and the myth of people working in the glamorous industry.

All this are reflected in airlines advertising and the posters of the era and people still love these images. Airline posters are much sought after by collectors and sometimes you need to fight for the gems.